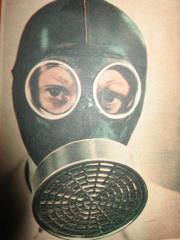 .
Original cardboard box lid for Gasbettchen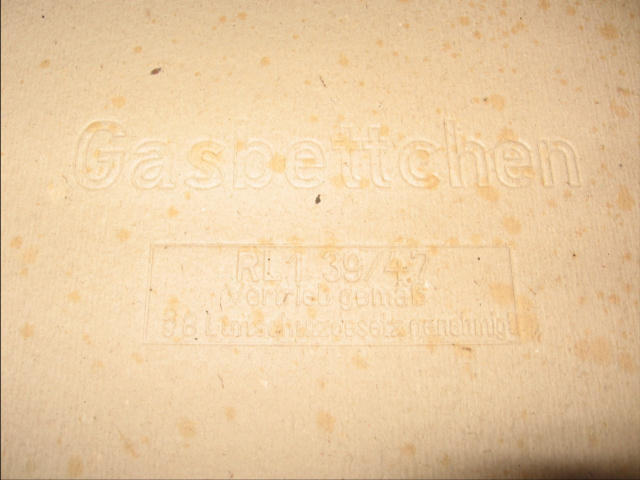 Gasbettchen is made by the AUER firm with the Luftschutz number RB1 39/47
Gasbettchen with cardboard box lid removed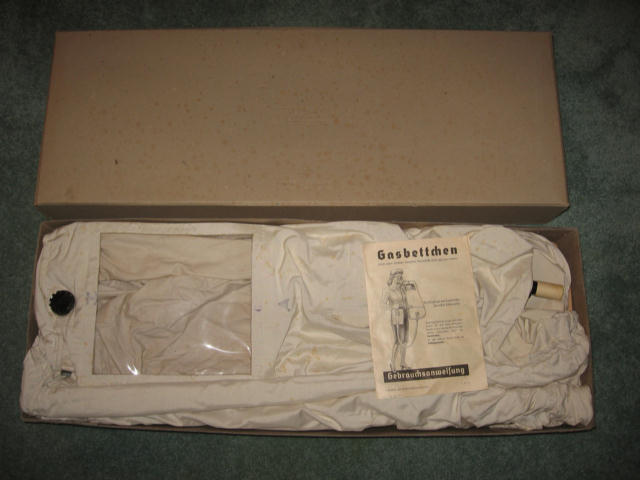 View of Gasbettchen packed with all accessories in original storeage box .
Gasbettchen assembled and ready to be sealed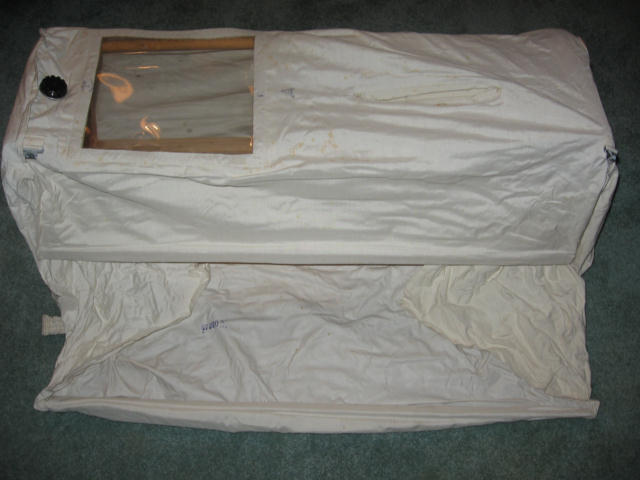 Triangular side flaps folded in and lower long flap ready to be rolled up into upper flap .
Close up view of closing flaps with retaining clip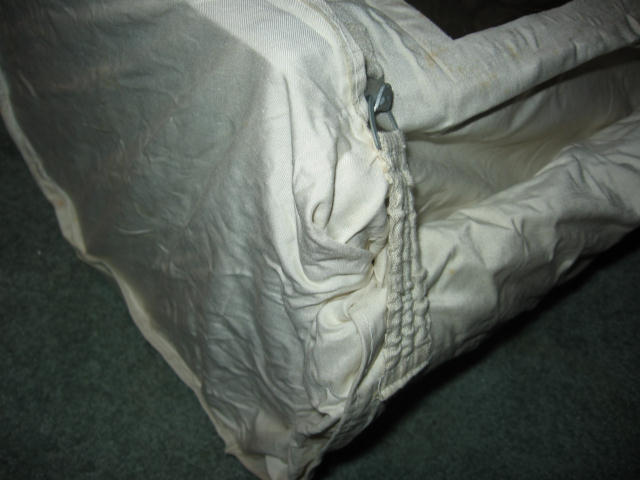 Close up view of lower flap rolled into upper flap and retained by spring loaded strap with D ring .
A FAMILY OF GAS PROTECTION !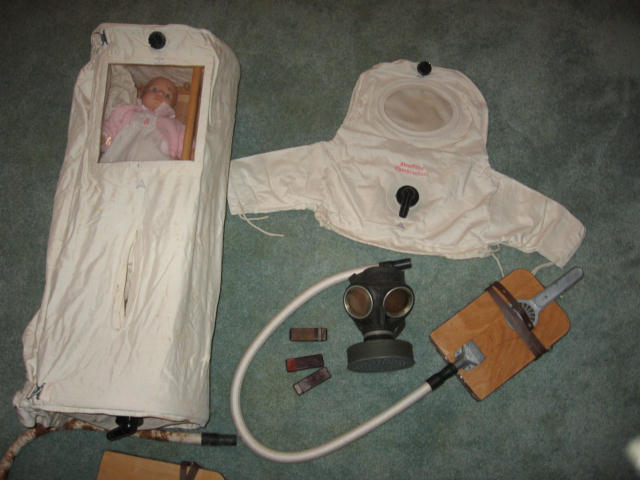 A Gasbettchen , Gasjńckchen , Gasmask , all for the German civilian population
The German Gasbettchen Ready For Action !
With a doll as a stand in for a real infant this Gasbettchen is ready for any gas attack !
An interior view of the Gasbettchken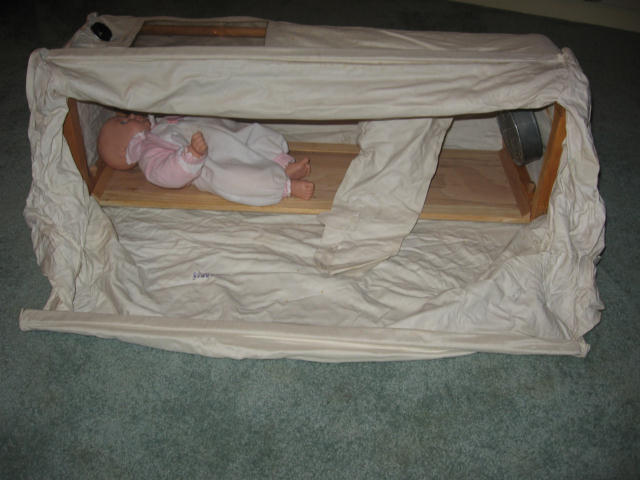 The fabric flap is ready to seal the infant inside , note the round VM gasmask filter on the right
Basic Parts of the German WWII Gasbettchen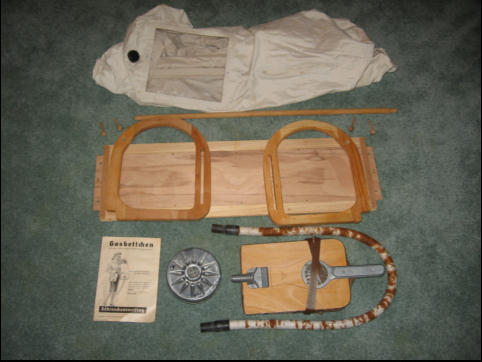 From top to bottom : white fabric cover ,wood frame, VM gasmask filter , foot pump with hose.
Basic wood frame of German WWII Gasbettchen
The basic frame is made from laminated beech wood . 2 side frames attached with 4 wood pegs
Laminated wood side frames with wood retaining peg
sides and floor board number marked for assembly
The left hand side frame and floor marked with a 2 and right side with a 3 for quick assembly
View of side frame and floor board with wood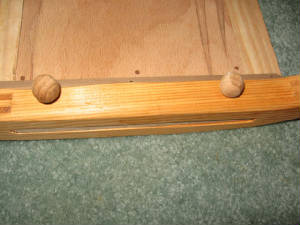 retaining pegs .
View od red ink stamp at air hose connection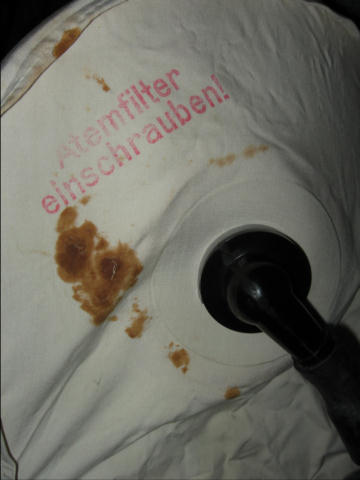 Stamp reminds the user to screw in the breathing filter before use ! On the other side is the Filter
Interior view of the VM gasmask filter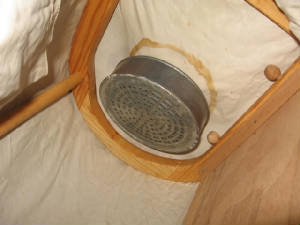 This is located on the inside of the gas bed and a screw fitting connects this to the foot pump hose
Interior view of the black bakelite air vent
This is a black bakelite one way air vent valve with a spring loaded disc so exhaled air can escape
Another detailed interior view of the gas bed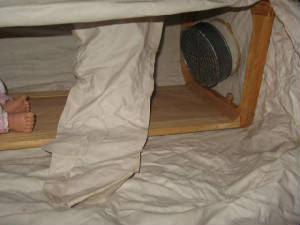 The Gasbettchen had an attached glove so the user could attend to the needs of the infant inside .
View of theFabric internal glove
This glove is attached to the body of the gas bed and access is through an opening on top of the bed
Glove access opening on top of Gas bed .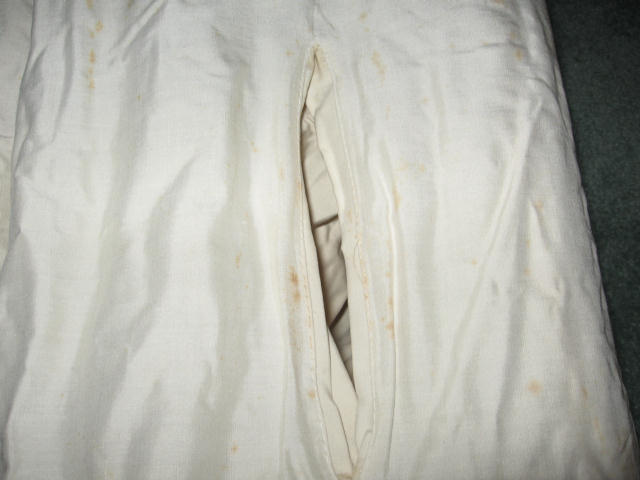 3 Finger glove is attached to gas bed and access to baby inside is only possible through this glove
FACTORY DEFECT IN FABRIC REPAIR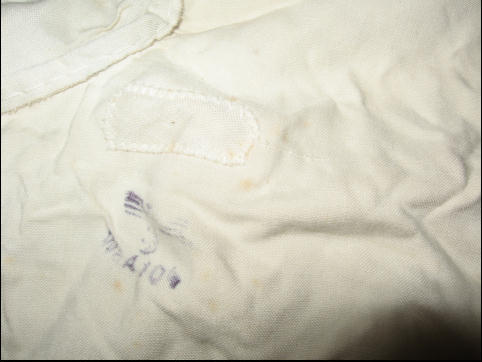 This is a defect in the fabric and instead of rejecting the fabric a patch was glued and sewn on .
Factory defect repair with inspection stamp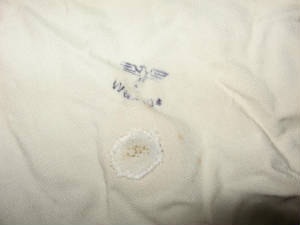 In order to insure air tightness in the gas bed all repairs are inspected and ink stamped

.
LuftSchutz fur kinder : Gasjńckchen , Gasbettchen und Gasmaske .