.
AUER MADE GASJ─CKCHEN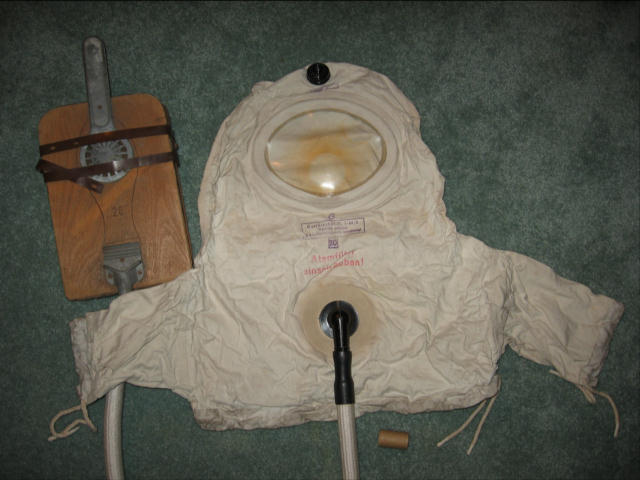 The front of this gas jacket has many red and black ink stamps on it .
TOP VIEW OF AUER GASJ─CKCHEN BOX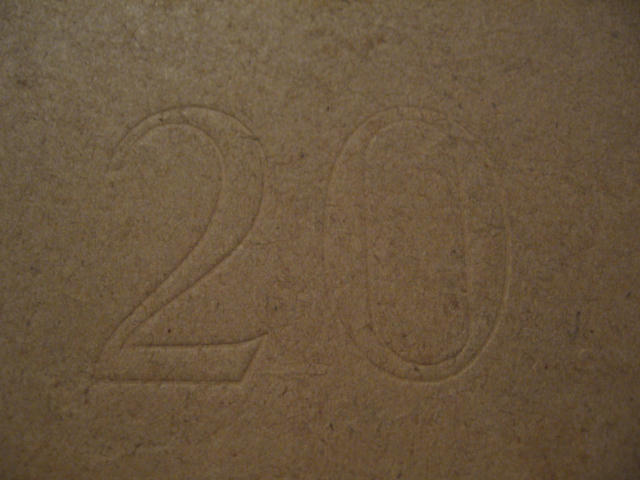 Top view of cardboard storeage box for auer made Gasjńckchen with number 20,why number 20 is unknown
CLOSE UP OF CARDBOARD STOREAGE BOX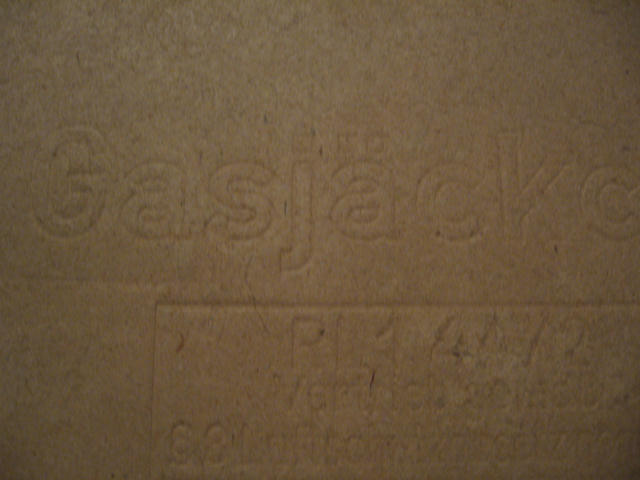 In this detail view we see the luftschutz conformity stamp and RL 1-44/2 for Auer Oranienburg 1944
LOTS OF INK STAMPS ON THIS ONE !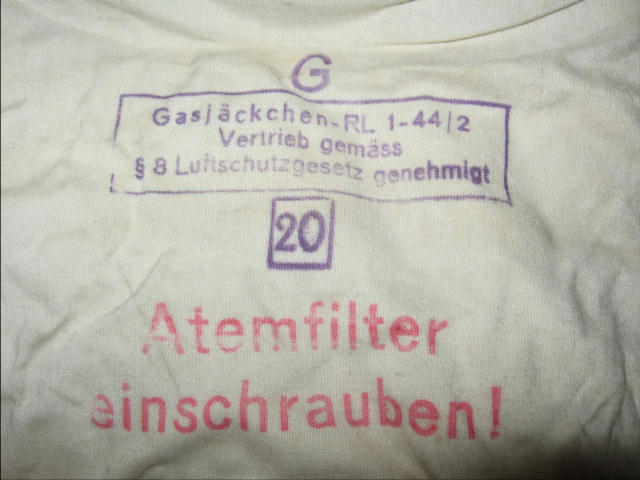 G for gas device,red stamp to remind user to screw on the breathing filter , luftschutz stamps
AUER MADE GASJ─CKCHEN INSPECTION STAMP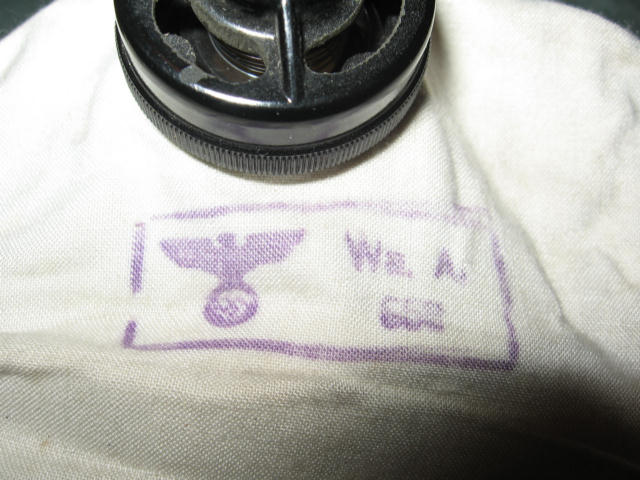 Located on the front top of the jacket is this spring loaded valve and below it the WaA stamp
close up view of luftschutz compliance stamp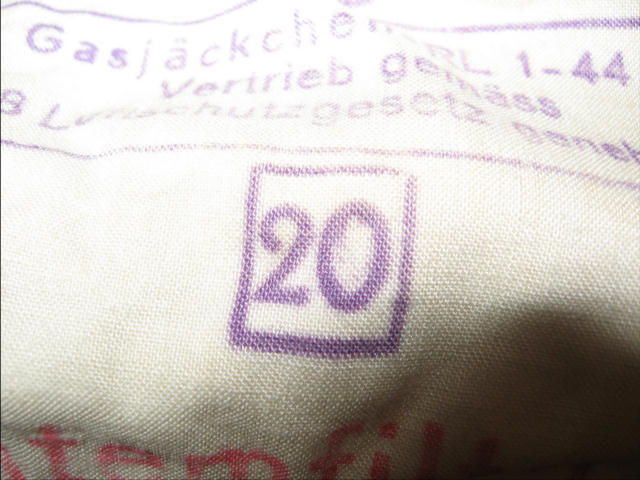 Ink stamp RL1-44/2 for Auer gesellschaft AG 1944 with luftschutz distribution stamp. Number 20 ??
VIEW OF AIR HOSE CONNECTION BARB
Hose barb made from black plastic bakelite material with AUER logo on the side w/ paper tube sleeve
INSIDE VIEW OF GASJ─CKCHEN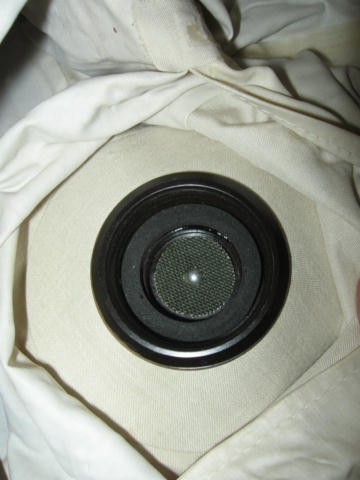 In this view one can see the threaded screw connection for the VM air filter canister .
VM AIR FILTER CANISTER W/ PAPER SLEEVE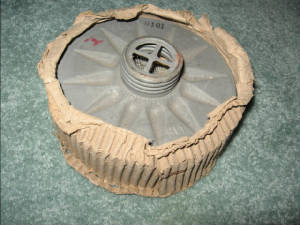 VM air filter used ffor VM gas masks, gasjackets and gas beds with original cardboard packing sleeve
CLOSE UP VIEW OF VM FILTER CANISTER
VM filter canister is made from stamped zinc w/ maker and inspection ink stampsW/ original packing
ORIGINAL FOOT OPERATED AIR PUMP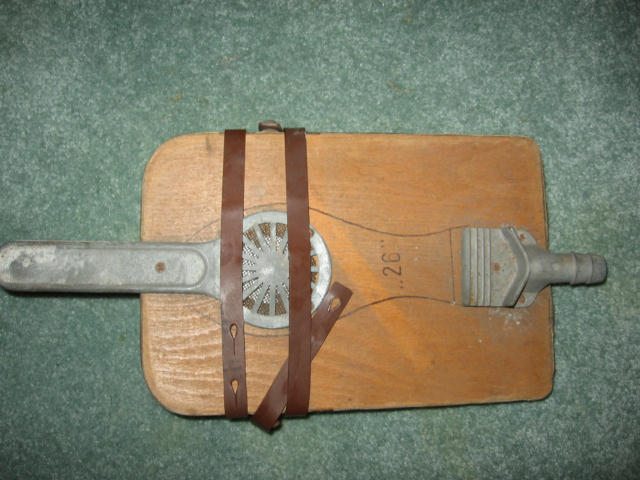 This is an air pump made from 2 flat pieces of wood w/ leather or a synthetic material for the sides
ORIGINAL AIR HOSE FOR GASJ─CKCHEN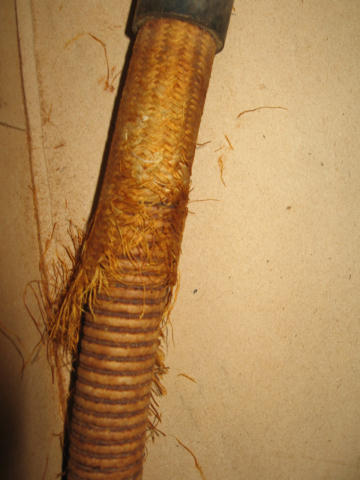 This hose supplied air to the jacket from the foot operated bellows pump
CLOSE UP OF AIR HOSE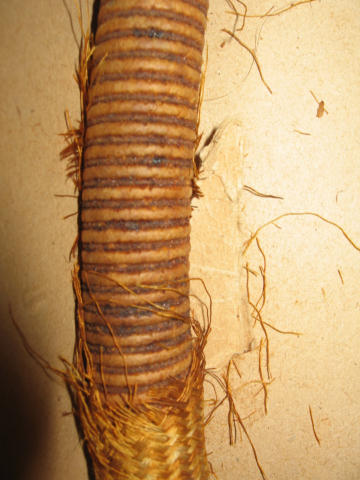 The air hose was made from rubber with a spiral steel wire reinforcement and a braided cloth cover
ORIGINAL GASJ─CKCHEN STILL IN THE BOX !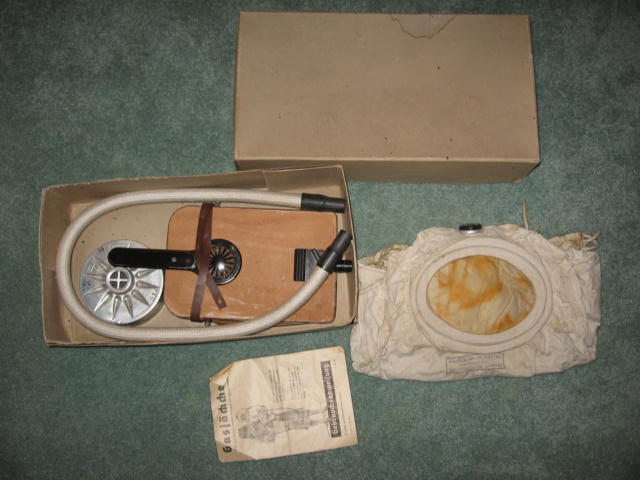 Gasjńckchen w/ box,foot pump,air hose ,VM filter and instruction sheet
CLOSE UP OF LUFTSCHUTZ CONFORMITY STAMP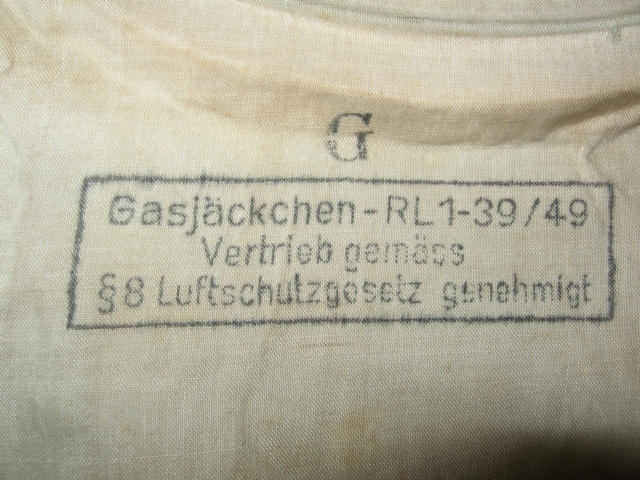 RL1-39/49 =AUER gesellschaft AG Gasjńckchen . This item conforms to luftschutz resale regulations
GASJ─CKCHEN INSPECTION STAMP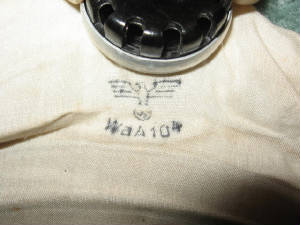 Below the exhalation release valve is the maker inspection stamp , 104 denotes AUER inspected
ANOTHER GASJ─CKCHEN !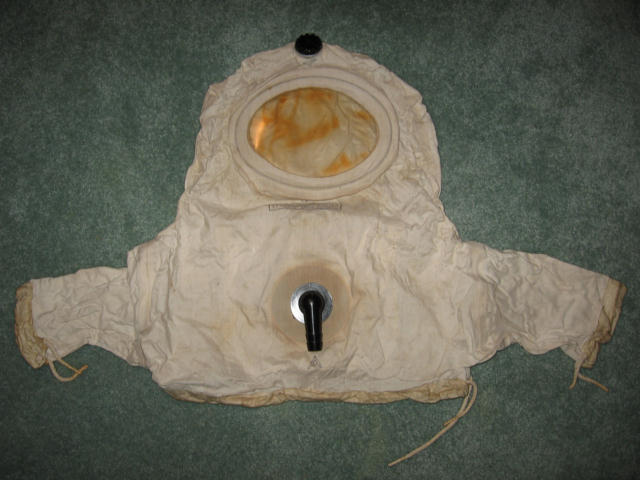 This jacket does not have the red reminder to screw on filter reminder ink stamp on chest of jacket
AUER MADE GAS JACKET WITH INK STAMP LOGO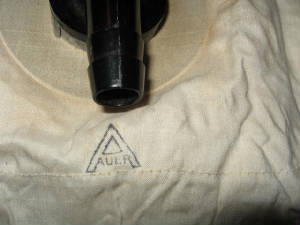 Below the black bakelite air hose barb is the AUER LOGO ink stamp
CLOSE UP VIEW OF GASJ─CKCHEN SLEEVE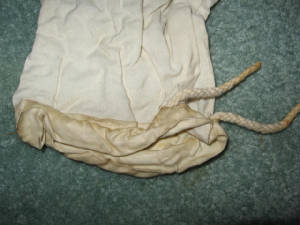 End of the sleeve wrist is made into a tunnel for a tie cord to seal the jacket to the wrist .
AIR RELEASE VALVE ON TOP OF JACKET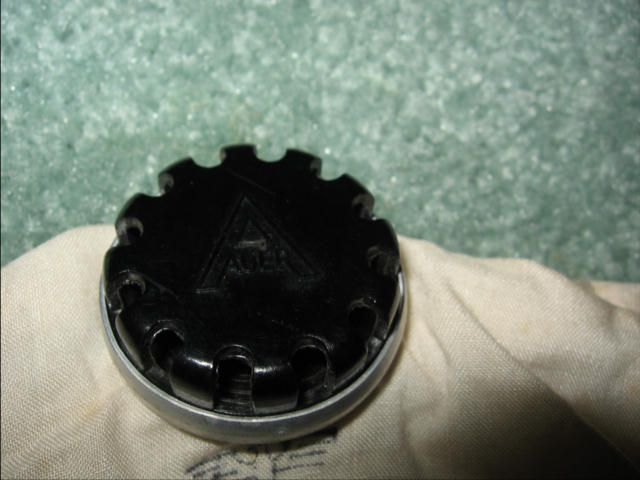 Black bakelite plastic , one way valve with the AUER logo moulded into it
AUER MADE GASJ─CKCHEN WITH SERIAL NUMBER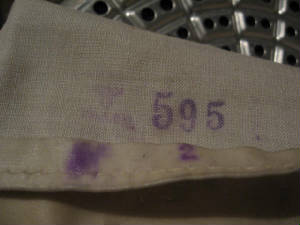 All gas jackets and gas beds were serial numbered . This number is found inside the jacket
ALL SEAMS MUST BE SEALED TO KEEP GAS OUT !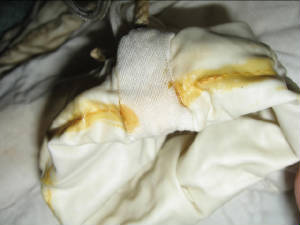 To keep gas from entering the jacket all stitching seams were sealed with a rubber material
INSIDE VIEW OF JACKET WITH VM AIR FILTER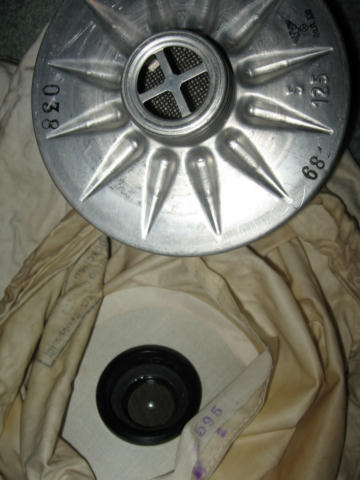 View of the interior of the jacket showing the square pocket with screw connection for VM filter can
BLACK PLASTIC AIR HOSE BARB FITTING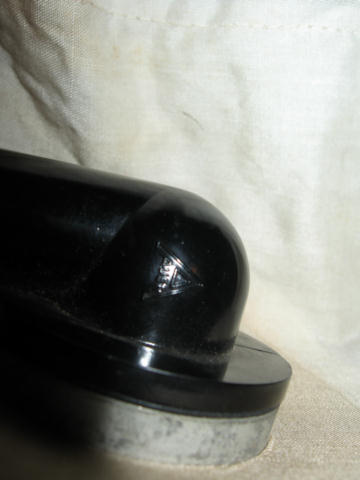 Air hose barb fitting found on the front chest of jacket with AUER logo moulded in the plastic .
A Gasjńckchen hooked up and ready to wear !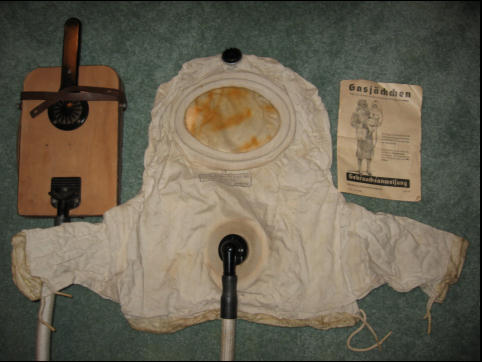 Foot bellows air pump and filter are connected ,all this jacket needs is to be put on and it's ready

A family of 4 gasjńckchen ready to wear !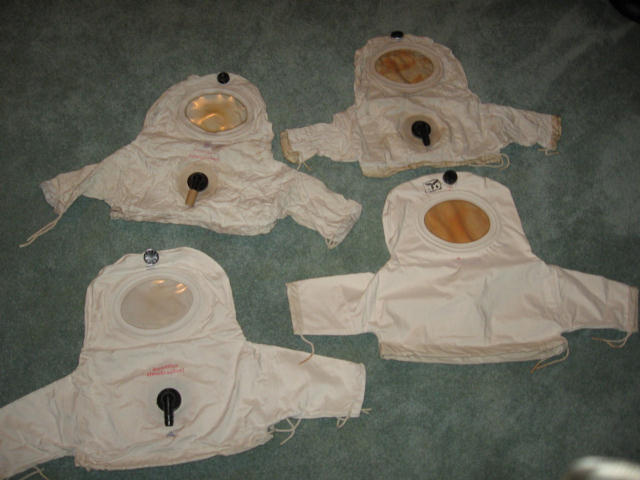 All 4 are AUER made . The lower right hand jacket has the air hose barb on the rear jacket variation
A FAMILY OF 4 STILL IN THEIR ORIGINAL BOXES !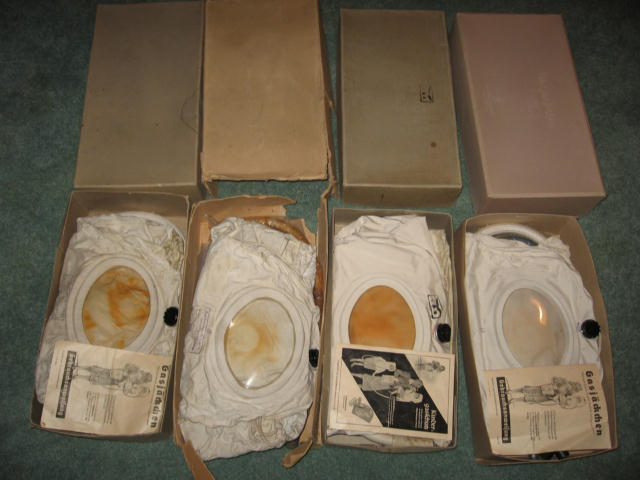 All 4 Gasjńckchen are made by AUER and complete with all accessories
CLOSE UP VIEW OF GASJ─CKCHEN BOX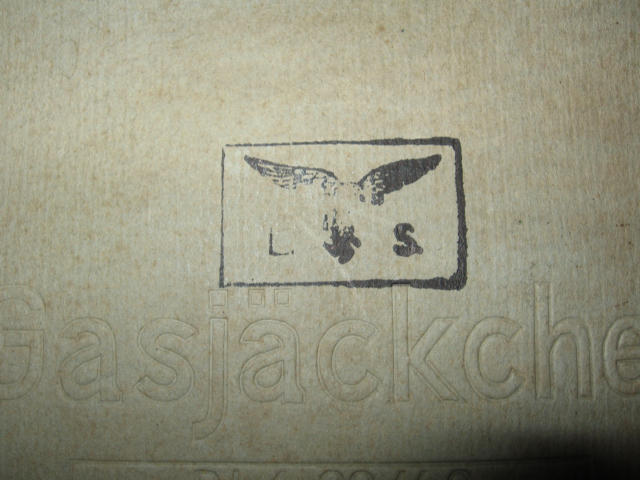 In this view of the top of a gasjńckchen cardboard box there is a black LS for LUFTSCHUTZ ink stamp
ORIGINAL GASJ─CKCHEN CARDBOARD BOXES
3 original cardboard storeage boxes with ink stamp serial numbers that match the jackets inside
.



.
LuftSchutz fur kinder : Gasjńckchen , Gasbettchen und Gasmaske .