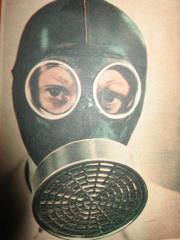 The Gasjäckchen or Gas jacket was intended to be used by infants that can walk on their own , from approximately age one to five years old .
This Gas jacket is a white rubberized fabric with tie cords at both the wrists and at the waist . The child can see out of this protective clothing by an oval celluloid view port that was bonded to the jacket fabric.
A standard VM ( Volks maske ) gas mask filter was screwed into a threaded inlet port on the inside of the jacket providing filtered air to the child .


Gasjäckchen carboard storeage box RB 1 39/49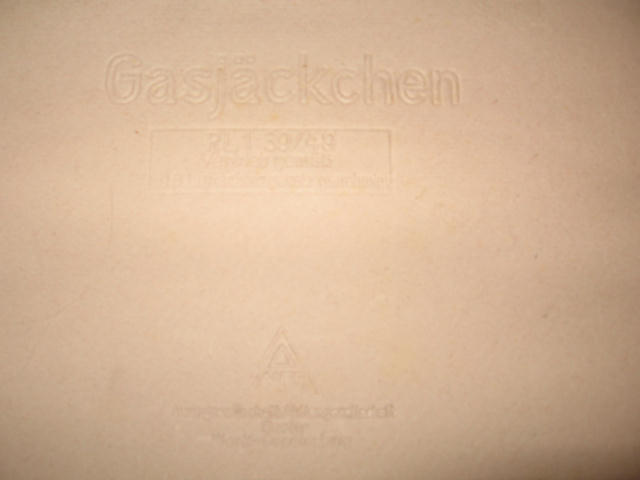 Gasjacket made by AUER with RB number RB1 39/49
Gasjäckchen RB1 39/49 with box and accessories
Iside of cardboard box is the fabric jacket , foot pump , air hose , filter and instruction manual .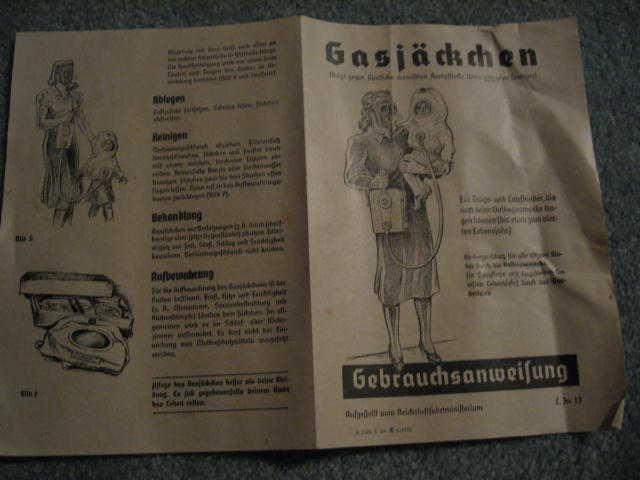 Gasjäckchen RB1 39/49 Ready for use !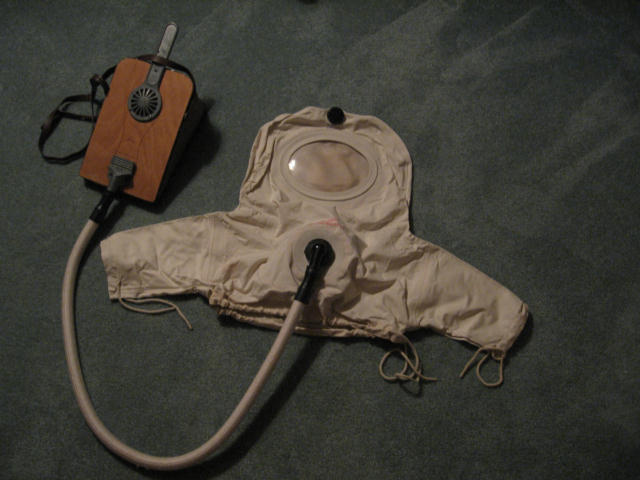 Gas jacket is connected to foot pump via the reinforced hose and VM gas filter canister .
Gasjäckchen RB1 39/49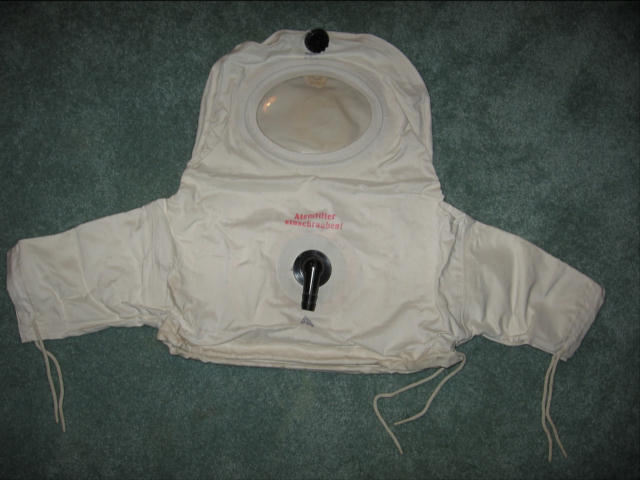 Front view of jacket showing black air hose barb and black release valve above the oval window
VIEW OF GASJÄCKCHEN TURNED INSIDE OUT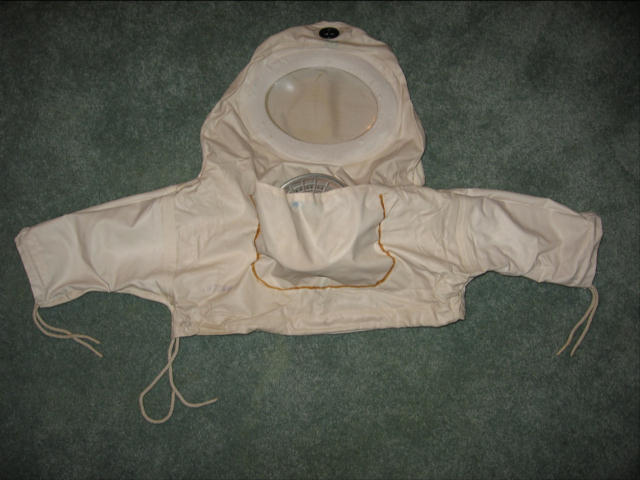 View of with rubber interior of jacket with square pocket that covered the VM filter
Interior view of Gasjäckchen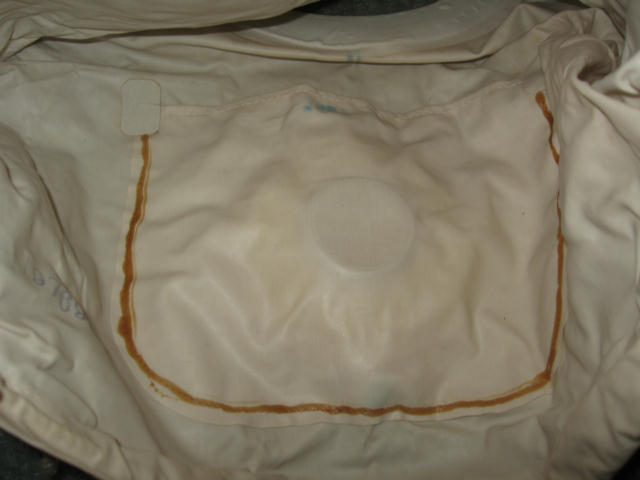 View showing rubberised fabric and pocket for VM filter . Note the seam sealer around stitching
VM Filter and packing material for Gasjäckchen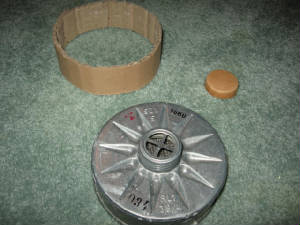 VM gasmask filter used for Gasjäckchen with cardboard packing sleeve and cap for top of filter .
Gasjäckchen packing material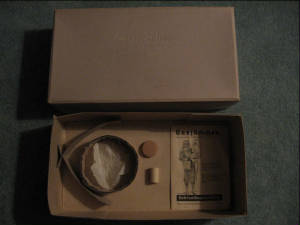 carboard box,paper tube for air hose barb,paper dust cap for VM filter w/ paper protection sleeve
Gasjäckchen exhalation valve
Black bakelite plastic exhalation valve located above oval celluloid window
CLOSE UP VIEW OF EXHALATION VALVE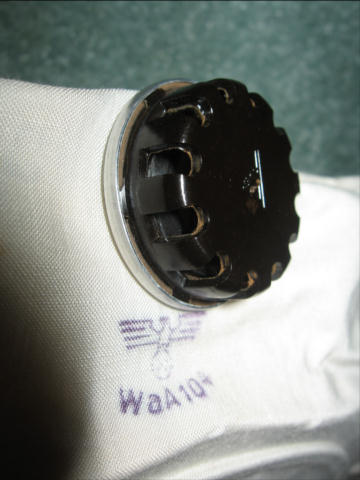 This is a close up view of one way spring loaded exhalation valve with WaA inspection stamp
CLOSE UP INTERIOR VIEW OF EXHALATION VALVE
view of the interior of the gas jacket showing the back of the exhalation valve and maker marks
CLOSE UP VIEW OF AIR HOSE BARB CONNECTOR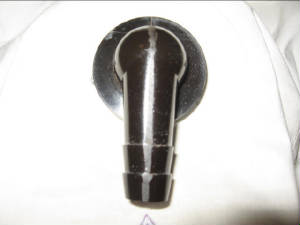 Hose barb made from a black plastic bakelite material with AUER maker stamp below it
CLOSE UP OF THE AUER MARKER'S INK STAMP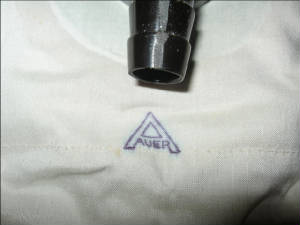 Auer foundbelow the air hose connection barb and is in black ink .
REMINDER INK STAMP TO SCREW ON FILTER !
Black ink stamp " G " for gas protection equipment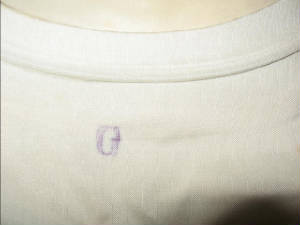 Large letter G found below the oval celluloid window on front chest of jacket
JACKET INK STAMPED SERIAL NUMBER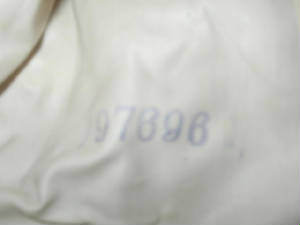 The serial number is ink stamped on the inside of the jacket .

VIEW OF WRIST AND WAIST TIE STRINGS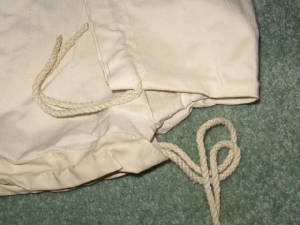 The wrists and waist is closed by these white , round draw strings .
INSIDE VIEW OF VM FILTER POCKET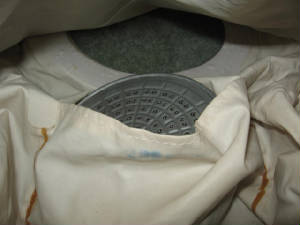 Fresh air is pumped through this VM filter which is protected with this pocket
.



.
LuftSchutz fur kinder : Gasjäckchen , Gasbettchen und Gasmaske .