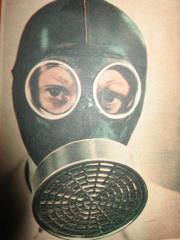 Here is the last gas mask for the german population produced during WWII . This can be described as a " last ditch " effort as Germany's resources were nearly exhausted .By this time the VM44 was made from green fabric with a layer of synthetic rubber . Unlike other German gas masks the round eye pieces are simply glued into place with fabric round reinforcement rings behind them . Overall construction is from green , thin fabric and when metel was in short supply the filer body was made from pressed paper ! There were no "M" or "F" sizes , just size 1, 2 or 3 , number 1 the largest and 3 the smallest . The mask came with a paper instruction sheet and a thin wooden carrying box .

VM 44 gas mask with original wood carrying box


Along with the mask is the original instruction sheet and pressed paper filter .

Front view of the VM 44 gas mask .Size is number 2


The number 2 stands for Medium , 1 being the largest . Body of mask is a thin green fabric material

Side view of VM 44 mask with exhalation valve


The exhalation release valve found on the side of the face mask was made from stamped sheetmetal

VM 44 instruction sheet


Innstruction sheet was printed on very poor "war time " paper quality .

Close up view of VM 44 eye pieces and size number


The eye pieces are made from very thin celluloid glued directly to the fabric of the mask

Detail of the green filter screw connection


The round , green painted VM filter screw connection no longer has a size or other markings on it

Detail view od exhaust valve and rubber sealing


The exhalation valve is unmarked and made from thin sheetmetal . All seams are sealed with rubber

FRONT VIEW OF VM GAS MASK



VM 44 GASMASK CLOSE UP SIDE VIEW


Side view showing black ink stamp markings and the green rubber sealant used along the edges

CLOSE UP VIEW OF VM 44 WAFFEN AMPT STAMP


Close up view of black ink stamp and more rubber seam and edge sealer .

INSIDE VIEW OF VM GAS MASK



CLOSE UP VIEW OF INTERIOR OF VM GAS MASK


Close up view of the round fabric discs that reinforce the glued in celluloid eye pieces

INTERIOR VIEW OF VM 44 GAS MASK


View of cloth chin rest strap on the bottom and in the center is the one way air intake valve

Enter content here

VM GAS MASK PRESSED PAPER FILER CANISTER


Close up of paper filter showing inspection ink stamps and date of manufacture

Top view of VM 44 gas mask pressed paper filter


Filter body is made from pressed paper with stamped sheetmetal screw connection on top .

Bottom view of VM 44 pressed paper filter



Side view of VM 44 pressed paper filter


Body of filter is paper and is rivited to the perforated bottom with 4 steel round rivits

2 VM 44 GAS MASKS WITH DIFFERENT FILTERS


On the left is a mask with pressed paper filter canister and a stamped aluminium filter on the right

VM 44 FILTER CANISTERS



TOP VIEW OF VM 44 FILTER CANISTERS


On left is pressed paper with steel screw connection and right all aluminium

SIDE VIEW OF PAPER AND ALUMINIUM FILTER


On the left is the pressed paper filter with metal screw connection , right the stamped aluminium

BOTTOM VIEW OF VM 44 GAS MASK FILTER


LEFT IS PRESSED PAPER AND ON THE RIGHT STAMPED ALUMINIUM .

VM 44 WOOD CARRYING BOX COVER


Wood carrying box lid with makers black ink stamp

VM 44 WOOD CARRYING BOX


Black ink stamp for mask size . Number 2 denotes a medium size . No longer is there an "M" or "F"

.

.

.
.
LuftSchutz fur kinder : Gasjńckchen , Gasbettchen und Gasmaske .